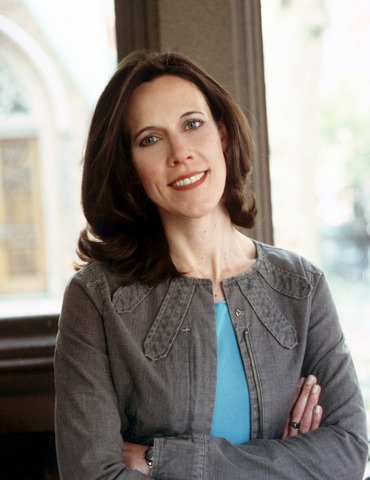 I don't usually post my
Build Book Buzz
newsletter content on my blog, but this week's Q&A with bestselling YA author Megan McCafferty is such a hit that I'm sharing it here. Thanks for this opportunity go to my daughter
Jessie
, who met Megan at an event at Syracuse University this spring. As soon as Jessie said, "Mom! She did Barryoke!," I knew I had to investigate.
EXPERT VIEW: Q&A with Bestselling YA Author Megan McCafferty
Our guest expert this week is Megan McCafferty, author of
sloppy firsts
(Three Rivers, 2001), an ALA Top 10 Quick Pick for Reluctant Readers, an ALA Popular Paperback, and a New York Public Library Book for the Teen Age. Its sequel,
second helpings
(Three Rivers, 2003), was also selected to the NYPL list, and was a Booklist Editor's Pick for one of the best novels of 2003.
charmed thirds
(Crown, 2006) was an instant New York Times bestseller and a NYPL pick.
fourth comings
(Crown, 2007) and
perfect fifths
(Crown, 2009) also made the New York Times, USA Today, Publisher's Weekly, Book Sense, Barnes and Noble, Borders, and other national bestseller lists.
I'm completely charmed by Megan's signature booksigning feature: Barryoke. It's a unique and clever way to let the real Megan McCafferty shine through and connect with her fans. It also gives the rest of us something to think about: Is it possible for more of us to incorporate signature features into our events, too? Here's more of the story; I hope it inspires you to think beyond the traditional approach and, like, Megan, have a little fun.
Q. Tell us a little about your booksigning and speaking schedule. You speak frequently on college campuses, right? Why?

I love appearing at colleges because these are the readers who have literally grown up with the Jessica Darling novels. They're the ones who tell me, "Your books got me through high school." Or, "I hated to read until I read your books." They appreciate my series on a profoundly personal level that makes what I do so rewarding.
Q. How many appearances do you make a year on average?

About 10. Every year since 2006, I've had a book come out either in hardcover or paperback. For each of those publications I did bookstore signings in New Jersey, New York, Pennsylvania and Connecticut—convenient locations close to my home in Princeton, N.J. When Perfect Fifths came out last year, I also went to Los Angeles and Washington, D.C. I would have loved to travel more, but as the mother of a young son it's hard for me to spend so much time away from home, especially when all these events are scheduled within a few weeks or even days of each other to maximize the early sales that are necessary for getting on the bestsellers lists.
When not plugging a just-published book, I do appreciate opportunities to travel outside the tri-state area for literary festivals in places like Tucson, Baltimore, and the gorgeous island of Antigua in the Caribbean. My college visits have brought me to UCLA, Wellesley College, and Syracuse University, among others.
I also do "off-the-record" events that aren't open to the public. I've gone back to speak at my high school several times, and I'm giving a speech at the annual conference for New Jersey Association of Library Assistants in June.
Most of my job is spent alone—just me and my laptop. It's fun for me to get out of my office—and my own head—to connect with all different audiences.
Q. What is Barryoke? Is this a product of your imagination or did you pick it up from somewhere else?

Barryoke is Barry Manilow karaoke. As far as I know, I'm the first person crazy enough to have come up with such a thing.
Q. How (and why) did you introduce Barryoke in Perfect Fifths? What's the connection to the story?

Barry Manilow's songs appear in all five books, often during key moments during the on-again-off-again romance between Jessica Darling and Marcus Flutie. The climactic scene in Perfect Fifths involves these two characters singing "Can't Smile Without You" on stage in front of an audience consisting entirely of members of the (fictional) Tri-State Chapter of the Barry Manilow International Fan Club. I didn't plan for Barry Manilow's music to serve as the cheesy leitmotif for the series, but I like how it played out.
Q. You now perform Barryoke at your booksignings and speaking engagements. Why? What made you come out of the closet with your singing?

Growing up, there were only two jobs I ever wanted: Writer or singer. Neither of which were the most practical careers, right? I'm lucky the writing worked out.
After 10 years and five books, I knew Perfect Fifths would close out the series. I wanted my events for this book to be more like a celebration, a going-away party of sorts. I took voice lessons for 10 years and was very involved in musical theater as a kid and all throughout high school and college. I sang in a semi-professional a cappella group in my mid-20s, and had a hard time finding another performance outlet after I left it. When it came time to arrange the events for Perfect Fifths, I thought to myself, "Hey. I love to sing. There's a big signing scene in the book. I have a captive audience. Why not?!"
So I invested in The Official Barry Manilow Chartbusters Karaoke CD and made The Official Barryoke Bag for collecting requests from the audience. I never know what song I'm going to sing until I pull the request out of the bag. I always give a prize to the person behind the winning request—always a copy of Perfect Fifths, but sometimes I'll throw in a Barry Manilow T-shirt or Barry Manilow International Fan Club pin. It's totally fun and ridiculous and every time I open my mouth to sing "Mandy" or "Copacabana" I can't believe that I made up this silly thing called Barryoke and that there are people who actually want me to do it!
Q. How many times have you seen Barry Manilow perform, and why so many?
I've lost count. Four, I think. The Showman of Our Time has still has got some pipes on him. It's been a while since my last show though. The immobility of his face is starting to trouble me.
Q. Does Barry know about your Barryoke?

I don't think so. I haven't heard from him or his people.
Q. What's the audience reaction?


Judging from the looks on their faces, it's something like this:
"Is she really gonna do this?"
"OMG. She's totally doing this."
"Hahahahaha. She did it…and it was AWESOME."
Q. Perfect Fifths is the last in the Jessica Darling series. What are you working on now?

I just turned in the first draft of BUMPED to my editor. It's a dystopian YA novel set 25 years in the future in which there's a global infertility virus and only teenagers can get pregnant. An apocalyptic comedy, I'm calling it a cross between Heathers and The Handmaid's Tale.
Q. Will you do something equally creative at your signings for this novel?

I have an idea for something I could do, but I'm not sure if I will. It has to feel right, and I won't know if it feels right until I'm closer to publication.
Q. Anything else you'd like to add?
I'm not much of a blogger, but interested readers can always keep up with me on
Facebook
and
Twitter
. Oh, and if you search for "Megan McCafferty" and "Barryoke" on Youtube, you can see the magic of Barryoke for yourself. (From Sandy: Here's my favorite!)
Please visit www.buildbookbuzz.com to subscribe to the free
Build Book Buzz
publicity newsletter for authors.